DANSGRUPPEN
VINDHÄXOR

UTSTÄLLNING ~EXHIBITION
1970 -
NåGON ANNANSTANS 1977
Föreställningen hade premiär på Fylkingen i september 1977. Den amerikanska koreografen Jeff Slayton hade bjudit in oss att dela hans föreställningskväll. Koreografin framfördes i tystnad i den absoluta övertygelsen att dans är en självständig konstform. Verket är mitt allra första som visats inför publik. Det var resultatet av tre års arbete med koreograf Birgit Åkesson som mentor. Föreställningen var koreograferad i arenaform, med publik på alla sidor, och turnerade runt i Europa och USA. Linda Forsman och Marzenna Kolesnik dansade i Någon a nnanstans och de kom att bli mycket betydelsefulla i Vindhäxors arbete under de kommande åren. Marzenna Kolesnik arbetar fortfarande i gruppen.
SOMEWHERE ELSE 1977
Shown for the first time when Jeff Slayton invited Windwitches to share an evening of performances with him at Fylkingen in September 1977. Somewhere Else was performed in silence in the absolute conviction that dance is an independent art form. This was the result of three years´ work with Birgit Åkesson as mentor, the piece is Eva Lundqvist´s first production for a public. It toured around Scandinavia, Europe and the USA. Linda Forsman and Marzenna Kolesnik danced in Somewhere Else and were central to Windwitches work for many years. Marzenna Kolesnik is still working for the Company.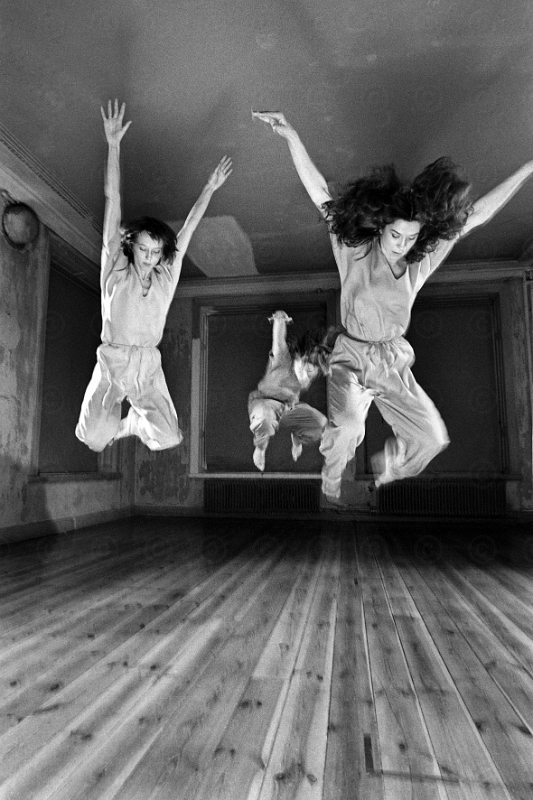 Koreograf ~ Choreographer: Eva Lundqvist
Dansare ~ Dancers: Cristina Caprioli, Linda Forsman, Marzenna Kolesnik, Eva Lundqvist

I ALLA FALL SÅ REGNAR DET 1977
I alla fall så regnar det var vår första helaftonsföreställning. Verket visades på Fylkingen och under de första sex månaderna framfördes det i total tystnad. Därefter till ett ljudband av tonsättare Bengt Göran Staaf. Kvällen hade organiserats av poeten och kompositören Sten Hansson som gav oss sitt fulla stöd att fortsätta vårt arbete.
ANYWAY IT RAINS 1977
The company´s first full-evening work. Performed in silence at Fylkingen. It was organized by the poet and composer Sten Hansson, who gave the company his support and the courage to continue. In later performances the piece was danced to a sound tape created by Bengt Göran Staaf.
Koreograf ~ Choreographer: Eva Lundqvist
Dansare ~ Dancers: Linda Forsman, Marzenna Kolesnik, Eva Lundqvist

LIKSOM SPINDELNS NÄT 1978
Liksom spindelns nät var ett kort solo som dansades av mig på Fylkingen. Att koreografera och framföra stundvis tysta stycken var vid 1970-talets slut den största inspirationen. I detta solo spelade en rad musiker i öppen dialog med dansaren vilket ledde till många nya samarbeten.
SPIDER´S WEB 1978
Spider's Web was a short solo danced by me at Fylkingen. A series of musicians played, creating an open dialogue with the dancer. From this point working only in silence gave way to collaboration with musicians performing live.
Koreograf, Dansare~ Choreographer, Dancer: Eva Lundqvist

NÄR VATTNET VÄNDER 1979
Föreställningen gjordes som ett beställningsverk till Kulturhusets hörsal. Verket uppfördes till specialskriven musik av kompositören och musikern Jonas Lindgren. Den nystartade Fläskkvartetten spelade musiken live. När vattnet vänder framfördes på flera scener inom Skandinavien men även på andra platser i Europa.
Where the Water Turns 1979
Commissioned by the Culture House in Stockholm. A landmark in the company´s history in that it was danced to Jonas Lindgren´s specially composed music, performed live by the newly formed Flesh Quartet. Where the Water Turns toured in Scandinavia and around Europe.